This article is about the moment. For the spell, see Killing Curse.
Avada Kedavra is the first Moment in Harry Potter and the Half-Blood Prince, Chapter 27, The Lightning-Struck Tower.
Description
"
Then, by the light of the Mark, he saw Dumbledore's wand flying in an arc over the edge of the ramparts and understood... Dumbledore had wordlessly immobilised Harry, and the second he had taken to perform the spell had cost him the chance of defending himself.

Standing against the ramparts, very white in the face, Dumbledore still showed no sign of panic or distress. He merely looked across at his disarmer and said, 'Good evening, Draco.'

"
Contents
Items
There are no itmes to collect in this level.
Read About
Zoom Levels
There is only one zoom level in this scene.
Zoom 1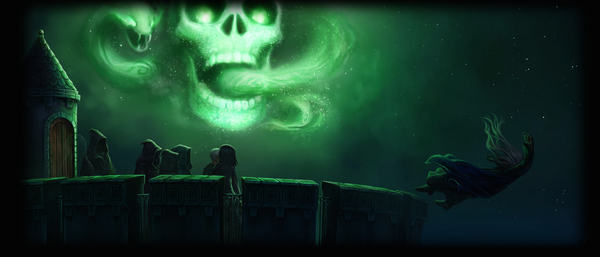 Scroll over Snape and he will lower his wand.
Scroll over the door and Harry will appear under the invisibility cloak.
Click on Draco to unlock 'Draco Malfoy'
Scroll over Dumbledore and his hair will swish.
Related Moments
Avada Kedavra:
Community content is available under
CC-BY-SA
unless otherwise noted.