This article is about the shop. For the moment, see Borgin and Burkes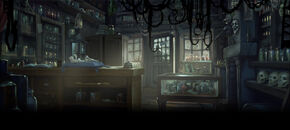 Borgin and Burkes is a shop in Knockturn Alley. It deals in Dark artefacts. Harry Potter accidentally ends up here trying to travel to Diagon Alley with Floo Powder. The owner of the store is Mr Borgin.
At present, the store is not accessible for players except in the moment in Harry Potter and the Chamber of Secrets.
Introduction
| | | |
| --- | --- | --- |
| " | Borgin and Burkes is a dusty shop in Knockturn Alley that specialises in Dark items. | " |
From the Story
"
Borgin and Burkes is a dusty shop in Knockturn Alley that specialises in Dark items. The shop features masks that leer down from the walls, human bones, and several rusty, spiked instruments, which hang from the ceiling.

The shop is tended by Mr Borgin, a man with oily hair and an obsequious demeanour.

"
| | | |
| --- | --- | --- |
| " | The cursed opal necklace that Harry saw in Borgin and Burkes in the summer before his second year at Hogwarts, is given to Katie Bell by an unknown person to deliver to someone at Hogwarts. | " |
"
Salazar Slytherin's locket was sold to Caractacus Burke by Merope Gaunt for ten Galleons. Burke later sold the locket to Hepzibah Smith.

As a young man, Tom Riddle worked as a shop assistant at Borgin and Burkes. His employers were surprised when he resigned his post and disappeared after the murder of Hepzibah Smith.

"
See also