Cokeworth is the first Moment of Harry Potter and the Half-Blood Prince, Chapter 2, Spinner's End.
Riddle
This Moment was originally released on December 12, 2014, as the first of the twelve "#PottermoreChristmas" releases. To access the Moment, users had to solve a riddle:
"
In a house on Spinner's End, a meeting takes place,


A mother begs help for her son, tears on her face.
Agreeing to help, though he doesn't know how,
Which Potions master performs an Unbreakable Vow?

"
Answer: Professor Snape
Description
"
"You know about the plan?" Bellatrix said, her fleeting expression of satisfaction replaced by a look of outrage. "You know?"

"Certainly," said Snape. "But what help do you require, Narcissa? If you are imagining I can persuade the Dark Lord to change his mind, I am afraid there is no hope, none at all."

"Severus," she whispered, tears sliding down her pale cheeks. "My son...my only son..."

"
Content
Items
Read About
Zoom levels
This moment has 2 zoom levels.
Zoom 1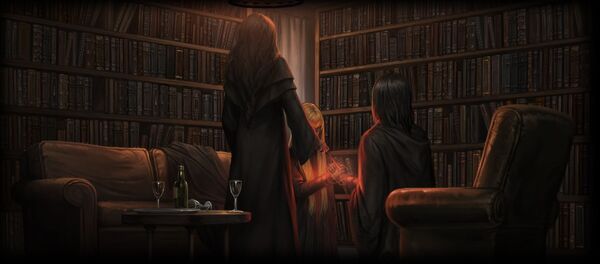 The middle glass on the table falls off when you mouse over it.
Clicking on the curtain to the right of Bellatrix unlocks "'Cokeworth' by J.K. Rowling"
The woodlice is in a gap between books in the middle of the top shelf to the left of Bellatrix
The Dark Arts Outsmarted is located in the middle of the third full shelf from the top to the left of Bellatrix
Zoom 2
Mousing over Bellatrix causes her wand to bind Snape and Narcissa together
Related Moments
Bellatrix Lestrange:
Community content is available under
CC-BY-SA
unless otherwise noted.