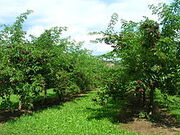 Elder
is one of the
woods
used to make
wands
.
Description
| | | |
| --- | --- | --- |
| " | The rarest wand wood of all, and reputed to be deeply unlucky, the elder wand is trickier to master than any other. It contains powerful magic, but scorns to remain with any owner who is not the superior of his or her company; it takes a remarkable wizard to keep the elder wand for any length of time. The old superstition, 'wand of elder, never prosper,' has its basis in this fear of the wand, but in fact, the superstition is baseless, and those foolish wandmakers who refuse to work with elder do so more because they doubt they will be able to sell their products than from fear of working with this wood. The truth is that only a highly unusual person will find their perfect match in elder, and on the rare occasion when such a pairing occurs, I take it as certain that the witch or wizard in question is marked out for a special destiny. An additional fact that I have unearthed during my long years of study is that the owners of elder wands almost always feel a powerful affinity with those chosen by rowan. | " |
Known Users
Gellert Grindewald
Antioch Peverell
See Also
Community content is available under
CC-BY-SA
unless otherwise noted.