This article is about the moment. For the object of the same name, see Floo Powder.
Floo Powder is the first moment of Harry Potter and the Chamber of Secrets, Chapter 4, At Flourish and Blotts.
Description
"

He took a pinch of glittering powder out of the flowerpot, stepped up to the fire and threw the powder into the flames.

With a roar, the fire turned emerald green and rose higher than Fred, who stepped right into it, shouted, 'Diagon Alley!' and vanished.

"
Content
New from J. K. Rowling
Chocolate Frog Cards
Objects
Books
Zoom levels
This moment does not have any zoom levels: it could be called a minigame.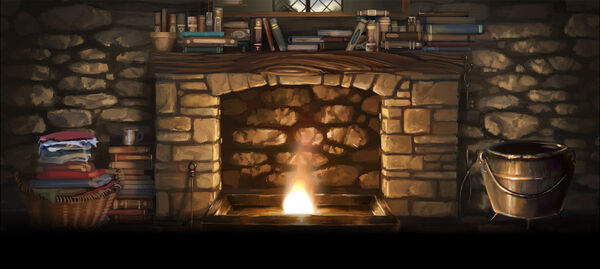 To be able to move on to the next moment, you need to drag a handful of Floo Powder into the fire. Make sure to drop it in the fire, not above it, or it won't work. You will know when you've done it successfully: the light turns green. Doing this also awards you the Floo Powder to go in your trunk.
On 18 August 2014 a radio was added to the left of the fireplace, instead of the mug, which links to new content on Celestina Warbeck.
Sounds
The fire is crackling merrily. Dropping in the Floo powder makes a whooshing sound.
See also
Community content is available under
CC-BY-SA
unless otherwise noted.