Harry's First Potions Lesson is the second moment in Harry Potter and the Philosopher's Stone, Chapter 8, The Potions Master.
Description
| | | |
| --- | --- | --- |
| " | Potions lessons took place down in one of the dungeons. It was colder here than up in the main castle and would have been quite creepy enough without the pickled animals floating in glass jars all around the walls… | " |
Revamp
This moment was revamped in July 2013.
Content
Places
Potion Ingredients
Zoom levels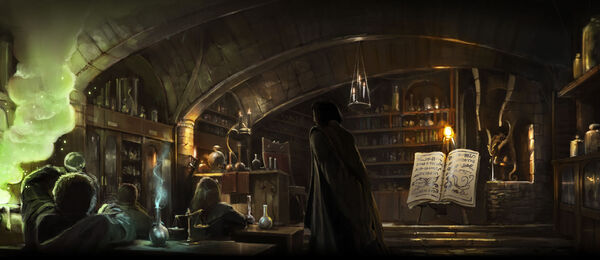 In the original version of this moment, there were no items to find and no zooming. All of this has changed with the July 2013 revamp of Pottermore.
Zoom 1
The Bezoar is on the desk of the blonde girl sitting to the right of Hermione. It looks like a brown pebble.
Flobberworm Mucus is on a shelf above the book and to the left of the light from your viewpoint.
Horklump Juice is in the middle of the second from the top shelf at the front of the classroom.
Lethe River Water is next to Snape on the shelves.
Zoom 2
There is nothing to collect on this level, but it allows you to continue to explore the moment. You can turn the page of the potion book, and if you hover over the mouth of the dragon, water pours out of it. As you pass your mouse over the lantern above Snape, it swings back and forth.
Sounds
You can hear bubbling potion, the creaking of wooden benches and the clinking of glass bottles and vials.
See Also