Harry Receives his Letter at Last is the second moment of Harry Potter and the Philosopher's Stone, Chapter 4, The Keeper of the Keys.
Description
| | | |
| --- | --- | --- |
| " | Harry stretched out his hand at last to take the yellowish envelope, addressed in emerald green to Mr H Potter, The Floor, Hut-on-the-Rock, The Sea. He pulled out the letter and read… | " |
Items
Zoom levels
This moment has 3 zoom levels.
Zoom 1



The lamp on the ceiling swings when moving over it
The letter on the couch can be read
Zoom 2
Each sausage sizzles when moving over them
The Old Cup can be collected
The candles above the fireplace turn on and off when moving over them
Zoom 3
The door swings a bit when moving over it
Closer look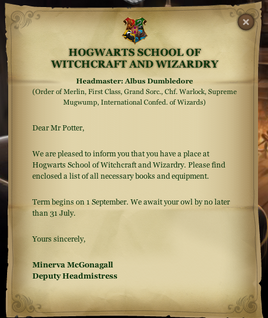 "

HOGWARTS SCHOOL OF WITCHCRAFT AND WIZARDRY

Headmaster: Albus Dumbledore
(Order of Merlin, First Class, Grand Sorc., Chf. Warlock, Supreme Mugwump, International Confed. of Wizards)

Dear Mr Potter,

We are pleased to inform you that you have a place at Hogwarts School of Witchcraft and Wizardry. Please find enclosed a list of all necessary books and equipment.

Term begins on 1 September. We await your owl by no later than 31 July.

Yours sincerely,

Minerva McGonagall
Deputy Headmistress

"
Sounds
The wind still whistles around the hut. The hut creaks a lot and the fireplace crackles.
See also
Community content is available under
CC-BY-SA
unless otherwise noted.