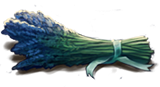 Lavender is an ingredient used in potion-making.
Potions
Lavender is used to brew the following potions:
How to Brew
You will be asked to add 4 sprigs of lavender to the mortar. When adding them, try to put the sprig straight over the pestle, in the middle of the bowl. That way, all the petals will go into the bowl.
Locations
Trivia
With its beautiful colour and calming fragrance, lavender can be used in all sorts of potions
See also