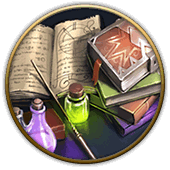 Objects is a general term for miscellaneous collectable items that don't fit into one of the other categories (i.e. Books, Chocolate Frog Cards, Cauldrons, Ingredients or Potions). Once bought or collected, they can all be found in the Objects tab of the trunk, and can be given as a gift unless they are required (in which case you can only give them if you have a spare).
List of objects
*Only one or the other is required, the other may be traded.
Required objects
Required objects are either needed to progress through the books, or included on the Shopping List. Like all required items, they cannot be traded unless you have a spare (which it may be possible to buy).
See also