Padfoot in the Cave is the first and only Moment in Harry Potter and the Goblet of Fire, Chapter 27, Padfoot Returns.
Description
| | | |
| --- | --- | --- |
| " | Then, at last, Sirius slipped out of sight, and when they reached the place where he had vanished, they saw a narrow fissure in the rock. They squeezed into it, and found themselves in a cool, dimly lit cave. Tethered at the end of it, one end of his rope around a large rock, was Buckbeak the Hippogriff. | " |
Content
Items
Ingredients
Read About
Zoom levels
This moment has two zoom levels.
Zoom 1
Ingredients
Bat Spleens can be collected in the back of the scene to the right of Padfoot and left of Hermione.
Between Buckbeak's feet, the Earthworm on the left can be collected.
On the pile of books, Horned Slugs can be collected on the book to the far right of the group.
Mouse Over
Mouse over Buckbeak and he bends down to grab an Earthworm.
Mouse over Buckbeak and he flaps his wing.
Mouse over Padfoot and he wiggles his ears.
Zoom 2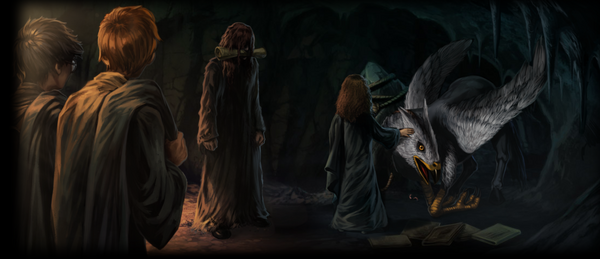 Click (Double)
Padfoot turns into Sirius Black.
Sounds
A reading by Stephen Fry can be heard.
When Buckbeak bends down to grab the Earthworm, it makes a smacking noise.
Related Moments
Hiding Places:
See Also
Community content is available under
CC-BY-SA
unless otherwise noted.