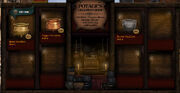 Potage's Cauldron Shop
is a
cauldron
shop in the north side of
Diagon Alley
. It is currently open to Pottermore players.
Before students are enrolled to Hogwarts, they are required to purchase a Pewter Cauldron from Potage's as part of their shopping list.
Stock
Trivia
The material of the cauldron counts for more than status - it affects the time taken to brew potions.
In Beta testing, all cauldrons were size 2.