Professor Grubbly-Plank is the first Moment of Harry Potter and the Goblet of Fire, Chapter 24, Rita Skeeter's Scoop.
Description
"
When they arrived at Hagrid's cabin, however they found a elderly witch with closely cropped hair and a very prominent chin standing before his front door. 'Hurry up now, the bell rang 5 minutes ago.' She barked at them, as they struggled towards her through the snow.'Who're you?'Said Ron, staring at her.'Where's Hagrid?'

'My name is Professor Grubby-Plank.' She said, briskly.' I'm your temporary Care Of Magical Creature's teacher.'

"
Content
Items
Objects
Ingredients
Read About
Zoom levels
The 2 zoom levels in this moment manifest as panning across one wide picture.
Zoom 1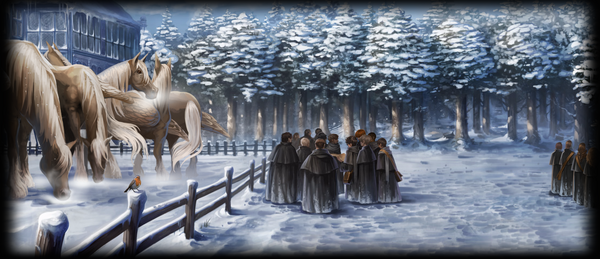 The Snowball is in the center of the screen just below the group of students.
The Palamino Hair is located by the fourth fence post.
Various items react when you mouse over them:
The bird hops and tweets.
Each of the 5 Abraxans will perform a unique action as well as neigh.
In the second to last window, someone will wipe a circle to clear the condensation.
Zoom 2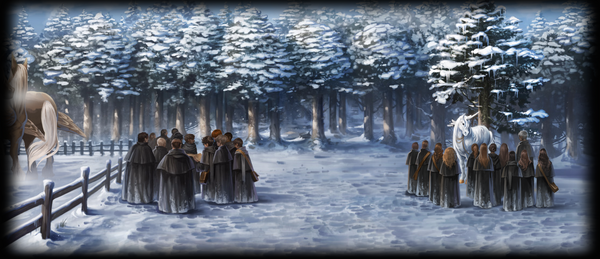 Take a closer look at the parchment in the center of the group of students to find an article by Rita Skeeter of the Daily Prophet entitled "Dumbledore's Big Mistake."
You can find a Unicorn Tail Hair by the Unicorn in between the second group of students.
The Woodlice is under one of the tree nearby the unicorn.
Various items react when you mouse over them:
Snow falls from the tree above the unicorn.
The unicorn stomps its hoof.
The Cowbane Essence is located in the first branch right above the unicorn's horn.
Sounds
You can distinctly hear several birds chirping and tweeting.
Related Moments
Beauxbatons:
See Also
Professor Grubbly-Plank (moment) on Pottermore
Community content is available under
CC-BY-SA
unless otherwise noted.