Introduction
"Puffskeins are a magical creature we are first breifly introduced to in the Harry Potter books when the main characters are looking at pygmy puffs (miniature puffskeins) in "Weasleys' Wizard Wheezes."
When we are given the Fantastic Beast films and the book Fantastic Beasts and Where to find Them by Newt Scamander, we learn more about the puffskein. A Puffskein is a beloved pet in families with young children because they enjoy cuddles and have zero objection to being played with and tossed around. They have a lengthy tongue, and at night they use it to reach it up into a wizards nose, eating their bogies.
From the Book
Newt Scamander- "Fantastic Beasts and Where to Find Them"
"A docile creature found around the world."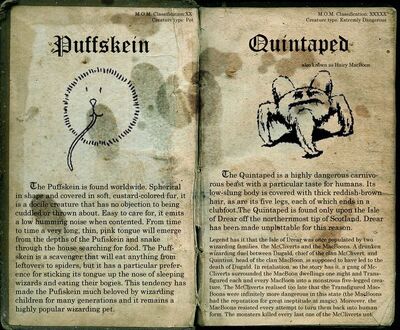 Community content is available under
CC-BY-SA
unless otherwise noted.