The Carriages is the first Moment of Harry Potter and the Order of the Phoenix, Chapter 10, Luna Lovegood.
Description
"
'Can't ... can't you see them?'

'See what?

'Can't you see what's pulling the carriages?'

Ron looked seriously alarmed now.

'Are you feeling all right, Harry?'

'I ... yeah ...'

Harry felt utterly bewildered. The horse was there in front of him, gleaming solidly in the dim light issuing from the station windows behind them, vapour rising from its nostrils in the chilly night air. Yet, unless Ron was faking – and it was a very feeble joke if he was – Ron could not see it at all.

"
Content
Items
Read About
Zoom levels
This moment has 1 zoom level.
Zoom 1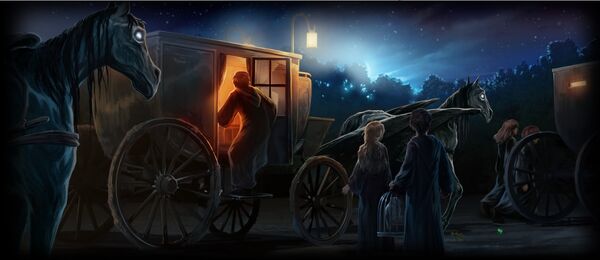 Click the left-most thestral to unlock new content about thestrals.
The Peppermint Toad is on the ground just in front of the back wheel of the first carriage from the right.
The Wormwood is just to Harry's right.
The Horned Slugs are on the wagon wheel just to the left of Ron's foot.
The lantern on the carriage Ron is entering moves when you mouse over it.
The thestral just in front of Harry moves his head and snorts when you mouse over his head.
Related Moments
Winged Horses:
See also
Community content is available under
CC-BY-SA
unless otherwise noted.