This article is about the shop. For the newspaper, see Daily Prophet.
The Daily Prophet is the name of a shop that is featured in the Diagon Alley section of Pottermore.
The shop was unlocked in April 2014.
It is quite noisy, filled with the sounds of scratching quills, coughing copywriters and the occasional bell, presumably the front door.
Location
The Daily Prophet is located in Diagon Alley. It is in the South Side of the alley, amongst shops such as Whizz Hard Books, Second-Hand Robes, The Junk Shop, Ollivanders, Obscurus Books, Gambol and Japes and Twilfit and Tattings. It is the first shop on the left-hand side.
Purpose
The purpose of this shop on Pottermore is to allow access to news reports from the Quidditch World Cup, filed under the byline of "Ginny Potter".
Also on Playstation Home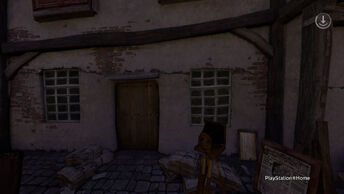 See also