The Golden Stadium is the first moment in Harry Potter and the Goblet of Fire, Chapter 8, The Quidditch World Cup.
Description
| | | |
| --- | --- | --- |
| " | Ministry wizards were flooding onto the field to separate the Veela and the leprechauns, but with little success; meanwhile, the pitched battle below was nothing to the one above. Harry turned this way and that, staring through his Omnioculars, as the Quaffle changed hands with the speed of a bullet — | " |
Content
Items
Objects
Read About
Zoom levels
This moment has 2 zoom levels.
Zoom 1
On the left side you can find the Quidditch World Cup Programme
On the right side you can find the Shamrock Hat.
Mouse over the referee (with the flaming broom) and he blows his whistle very loudly.
Mouse over the golden snitch in the centre.
Zoom 2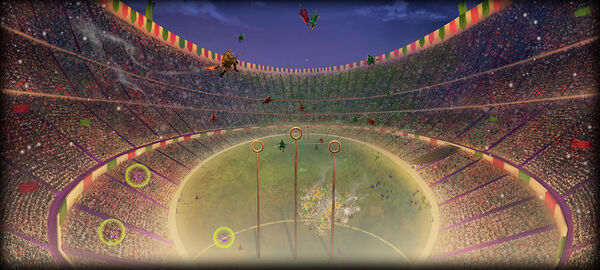 You can find the Bulgarian Scarf and the Omnioculars in the crowd to the left (see above image).
The Leprechaun Gold can be found in the grass on the left side of the yellow line in front of the near goal posts.
Various things react if you mouse over them:
The flaming referee still whistles.
The battle between the Veela and the Leprechauns heats up.
Content from J.K.Rowling:
"Scottish Rugby" can be found and read about by mousing over the right-hand goalpost at the far end.
Sounds
You can hear nothing above the crowd cheering and applauding—except that whistle!
Related Moments
Quidditch Matches:
See Also