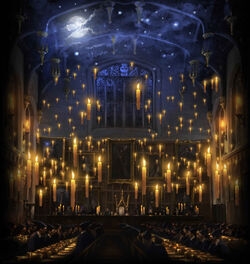 The Great Hall is the only part of the web site which allows you to check the top 20 highest scoring students in each house. you can also view which House is in the lead, how many students have joined each House, and how many students are attending Hogwarts overall.
Introduction
| | | |
| --- | --- | --- |
| " | The Great Hall is one of the largest rooms in Hogwarts castle, the main gathering place for meals and school events. Students sit at four long, wooden tables that run down its length, traditionally according to house, while the teachers and staff sit at the High Table. The ceiling is bewitched to look like the sky outside. | " |
School Leaders
School leaders are the students with the highest overall House Points between every student (not just their House).
Wizard's Duel
Main article: Wizard's Duel
When inside the Great Hall, you are able to duel other wizards. You are also able to see the leaderboard, which shows overall duelling points between every student (not just their House).
From the Story
The Great Hall is mentioned in Harry Potter and the Philosopher's Stone, Chapter 17, Moment 3.
| | | |
| --- | --- | --- |
| " | The Great Hall has been decorated splendidly for the start-of-term feast. Golden plates and goblets gleam by the light of hundreds and hundreds of candles, which float over the tables in mid-air. The four long house tables are packed with students, and the staff sit along one side of a fifth table, facing the students. | " |
| | | |
| --- | --- | --- |
| " | The ceiling of the Great Hall is still gloomy after the storm from the previous night has blown over. Heavy clouds of pewter swirl overhead as the students eat their breakfast. | " |
| | | |
| --- | --- | --- |
| " | The Great Hall is decorated overnight in preparation for the Beauxbatons and Durmstrang delegations arriving. Enormous silk banners hang from the walls, each representing a Hogwarts house. The largest banner hangs behind the staff table, and bears the Hogwarts coat of arms. | " |
| | | |
| --- | --- | --- |
| " | The Goblet of Fire is moved from the Entrance Hall to stand in front of Dumbledore's chair at the teachers' table in the Great Hall. | " |
| | | |
| --- | --- | --- |
| " | There is a small room just off the right-hand side of the Great Hall, into which the Triwizard Tournament champions disappear after their names come out of the Goblet of Fire. The room is lined with pictures of witches and wizards, and there is a fireplace facing the door. | " |
| | | |
| --- | --- | --- |
| " | The walls of the Great Hall have been covered in sparkling silver frost for the Yule Ball, and hundreds of garlands of mistletoe and ivy cross the starry black ceiling. The house tables have vanished and there are about a hundred smaller, lantern-lit tables to replace them, which seat about a dozen people. The area of lawn immediately outside the front of the castle has been transformed into a sort of grotto full of fairy lights, with hundreds of actual fairies sitting in the bushes and fluttering over the statues of what appears to be Father Christmas and his reindeer. | " |
| | | |
| --- | --- | --- |
| " | The usual Great Hall decorations are missing for the Leaving Feast in Harry's fourth year. Instead, the wall behind the teachers' table is covered with black drapes, as a mark of respect for Cedric Diggory. | " |
See also