The Weasleys' is the second moment in Harry Potter and the Chamber of Secrets, Chapter 3, The Burrow.
Description
| | | |
| --- | --- | --- |
| " | Lower and lower went the flying car. The edge of a brilliant red sun was now gleaming through the trees. 'Touchdown!' said Fred as, with a slight bump, they hit the ground. | " |
Content
Ingredients
Zoom levels
This moment has 3 zoom levels.
Zoom 1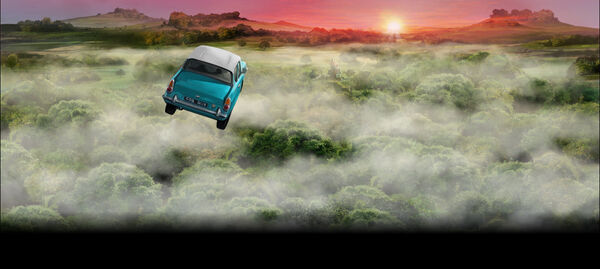 There is nothing of interest in zoom layer 1.
Zoom 2
If you hover over the bumper of the Ford Anglia, a ring of smoke comes out of the exhaust pipe.
Hover over the trees below the right rear tire and a bird will fly across the horizon.
On the lower right hand side of the scene, on top of the tree tops, Unicorn Tail Hair can be found.
Zoom 3
The Horklump Juice is in the garden. There's a little picket fence running past the house; at the nearest corner is a little bush. The juice is to the left of that.
The wormwood can be found in a bush near the back-right corner of the hedge running around the house.
Hover over the roof of the house to see smoke rise from the chimneys.
Hover over the rising sun. It will brighten.
Sound
You hear the car and the wind, as well as some chirping birds.
Hover over the sun at Layer 3 to hear a rooster crowing.
Hover over the bumper at layer 2 to hear the car make noise.
See also
Community content is available under
CC-BY-SA
unless otherwise noted.