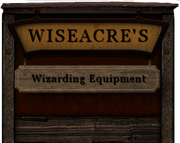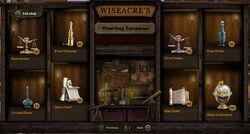 Wiseacre's Wizarding Equipment
is one of the shops which feature in
Diagon Alley
.
Before students are enrolled to Hogwarts, they are required to purchase equipment from the shop.
Stock
Trivia
6 Items which are on sale in Wiseacre's currently have no use within Pottermore. But there is possibility that they will have a use in a future update.
A Remembrall can be bought here, but students also have a chance to find a Remembrall for free during the storyline chapters.